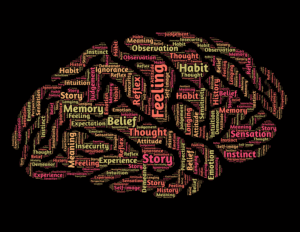 I am asked this question a lot. There can be no single, succinct answer.
However, I'll try to answer it here. First of all, you will need to stay open to all ideas and possibilities so that your unconscious mind has the best possible chance of building on any positive suggestions and information it receives.
As a hypnotherapist, it is my job to access your unconscious mind. I will then help you to switch from your old, unwanted behaviours to new, desired ones.
We absorb masses of information, every second of the day, most of which happens without our awareness. Out in the world, we are constantly open to all sorts of ideas, inputs and images. Obviously, not all of these influences have a positive effect.
By remaining open, relaxed and at ease — bodily and mentally — you can maximise your gain from this unique experience, in the hands of a skilled, qualified and practised therapist.
Trust and Rapport
You and the therapist will need to have a strong rapport and develop a level of trust.  When you provide the therapist with as much personal information as possible, in complete confidence, this is the key to unlocking the door. We will solve the problem, together.
Does Hypnotherapy Work for Self-Confidence?
In this case from my own hypnotherapy practice, a 29-year-old dental nurse from the North-East of England described her problem. She had an important job interview at a Yorkshire hospital coming up. She felt anxious, nauseous and struggled to cope with the pressure of questioning.
The thought of being faced by a panel of faces filled her with fear and dread. She was unable to think about her forthcoming interview for a junior consultant role and felt uneasy as a result.
Through hypnotherapy, the young woman found issues from her past that had prevented her from believing she could be a success in her chosen profession.
A Story of Success
"Ever since my childhood I have always questioned my ability to succeed. I felt pressure from authority figures and family, both during and after school. Hypnosis helped me to retrain my mind to think of myself as a competent, confident and successful person. I am no longer afraid of success."
As a result of treatment, the patient regained her confidence. She was able to slow down, take a breath and focus on her strengths. I received a nice email from her a month or so later.
"Just to let you know that I was successful at my interview yesterday. It was delayed from October due to the full interview panel not being available, but all turned out well in the end. I felt great during, for the presentation and competency questions I was fine. I felt relaxed, confident and sure of myself."
Does Hypnotherapy Work for Phobias?
On the London College of Clinical Hypnotherapy's website, a case study describes how hypnotherapy helped a recently widowed woman with a crippling fear of mice overcome her phobia.
"She initially would refer to them as 'm' and it seemed a real struggle for her to say the word. If she did she would say it very quickly and quietly, and she would also pull a face. She also couldn't bear to see pictures of mice."
Hypnotherapy sessions combined regression, desensitisation and other techniques. This way, the therapist helped the woman to find a link between seeing mice in her home and the death of her husband.
Over time, they traced her feelings about mice back to her childhood. She had spent time alone in a hospital where mice ran along the corridors at night.
— Of Mice and Mae —
"Mae didn't remember feeling scared, she saw the mice as 'playmates'. As she continued to talk, she confided she felt a sadness and an overwhelming sense of loneliness.

"Mae comforted her 'inner child' who sobbed as she felt so very scared and lonely. Although she felt sadness about being left alone in hospital as a small child, this was the sadness of an adult rather than the raw pain she felt as a child.
"She now felt able to tolerate mice. Although, she said, she would never be a fan of mice, they no longer had so powerful a hold over her."
Present Challenges
Of course, these are uniquely challenging times. We find ourselves living and working amidst a pandemic affecting all our lives, and in a multitude of ways.  Many of us have experienced issues directly or indirectly affecting our health, our relationships, our finances and more.
Some of us have lost loved ones. More than a few of us have lost work and our personal lives have felt additional strain coming from this, too.
It is especially important this Christmas, albeit one spent in unusual circumstances, that we appreciate who we have and we let our nearest and dearest know this. Sometimes just a phone-call to a friend is all it will take. Hug your pets. Go for a walk on a crisp, clear morning (or rainy afternoon).
Recordings and Contact Details
If you do have any issues or challenges that you feel would benefit from a tailored plan of hypnotherapy, then please do get in touch.  Contact me through my email, my Instagram or Facebook pages (you can even 'like and follow'!)
I have a range of recorded, guided therapies which you may find to be of help; you can find some free examples on my YouTube in this playlist. I can also record you a bespoke meditation or therapy session to suit your needs.
Pricing for each recording will vary slightly depending on your particular problem, but are generally between £30 to £45.  I can also offer a reduced rate according to your individual financial situation.
It only remains for me to wish you all a very happy and peaceful Christmas and a prosperous New Year.
— Jamie Tregurtha