Bipolar
adjective
1.1  having or relating to two poles or extremities
Bipolar Reflex Therapy is so-called because it is a treatment that involves work on opposite ends of the body (both the face and the feet). It was not developed for, and should not be considered a treatment for, Bipolar Disorder.
Bipolar Reflex Therapy was developed by world-renowned reflexologist Lone Sorensen. Lone is the founder of the world's largest Reflexology school and has pioneered many new reflexology methods.
It's a method designed specifically to help release both deep and more superficial trauma, and consists of stimulating different areas and points on the face, scalp and feet in order to release emotions stored in the body's cell memory, limbic system and amygdala.
The purpose of this specific form of reflexology is to enable you to reach a completely relaxed state and find inner peace, to the level of a meditative state.  Its aim is to slow down your body's processes; thus enabling you to gently release old traumas stored in both your conscious and unconscious mind.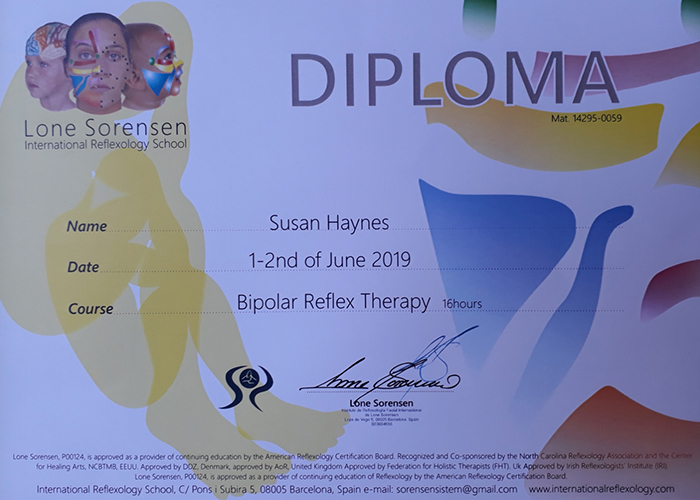 The method can be used for children, adolescents, adults and the elderly, and may be beneficial for:
Stress
Trauma
Post-Trauma
Emotional issues
Burnout
Bipolar Reflex Therapy is designed to work alongside more conventional treatments for trauma and should not be considered a substitute for these